Tal Bachman's Horse of a Lifetime
By
Talmage Bachman
February 1, 2011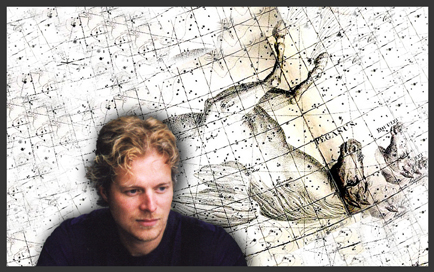 I had no idea where the impulse had come from.
If you'd met me 10 years ago, you wouldn't have guessed that buying a horse would lead to one of the greatest experiences of my life. Between my career as a recording artist and my life offstage as a husband and father of seven, it was hard to imagine me making time to become an equestrian in my mid-30s, but that's exactly what happened.
It started when my marriage began to falter after my wife and I decided to sever ties with the religion in which we had been raised. The resulting upheaval threatened to leave our once-idyllic lives in a shambles. I had to do something. But what? For those entrenched in the equestrian lifestyle, the idea of "horse therapy" is pretty well known, but it wasn't to me. I had no real familiarity with horses. Like most young boys, I had fantasized about becoming a cowboy, but in real life, I didn't even know anyone who had a horse. In fact, I'd always been somewhat uncomfortable around them.
But I knew my wife, who was raised in England, had always wanted one. We had moved to a seven-acre property in Canada with two fenced pastures. It wasn't too much of a leap to light on the idea that the answer to my problem was a horse—She learns to ride; she bonds with it; she calms down; I look like a hero; she falls in love with me again; we stabilize our family; we live happily ever after. For the first time in a long while, I felt hopeful.
I immersed myself in an online crash course in horses. Salt Spring Island, where we lived, was pretty small, and my local inquiries yielded no decent prospects. (My limited budget didn't help). So one day, hoping to get lucky, I took the ferry over to Vancouver Island, grabbed a local paper and began scanning the ads. As I neared the end of the section, I saw something that sent my pulse racing: 16 h., 9 yr. old Tennessee Walker gelding. Great temp. Exc. condition. Well-trained. Pure black. $3,900.
I'm embarrassed to admit it, but in that moment all thoughts of getting a horse for my wife vanished, and all I could think was: This one is mine! As I'd studied up on horses, I couldn't help but indulge in the occasional daydream of me on a horse, and it was always big and bold and black, oozing intelligence, confidence and "presence." Having read about Tennessee Walkers, I had taken a fancy to the breed. Suddenly, I seemed to be looking at an ad for the very horse I had been glimpsing, seemingly, in premonition. Could it be that I'd actually found him? I wondered if I might be going crazy from all the stress. And in the next instant, it hit me: Wait a second… We both get horses!
An hour and a half later, I walked into a barn north of Nanaimo, British Columbia, and saw…my horse, the most magnificent creature I had ever seen in my life: big, black, glossy, with a regal bearing. He looked at me, and I looked at him, and there was an electric, seemingly telepathic connection. It was one of the most riveting moments of my life. I immediately blurted to the owner, "I'll take him." The man looked stunned.
"Uh, don't you want to ride him first?" he asked, incredulous.
"I don't need to, really." I knew this was my "soul horse." (Of course, there was the other little matter of me not having any idea of how to ride, but I would sort that out later!)
He had a silly name, so I decided to rename him Apollo, after the Greek god of healing and truth. A week later, Apollo was delivered. I marveled anew at the delicacy of his head—finer than most Walkers—and the lacquered gloss of his ebony coat. By then, I had picked up a bridle, bit and reins from a tack shop, though I had no saddle. But still in the throes of obsession, and certain that Apollo and I had a special connection, I couldn't help myself, and within 10 minutes of his delivery I had his headgear on and had decided to see how well I could manage riding a horse for the first time.
Using a fence post as an aid, I gingerly mounted Apollo. Talking to him the whole time, I took the reins loosely and made a click sound. Apollo walked toward our pasture. I'd read that a gentle squeeze of the legs was the most common cue for a horse to move forward; and so, trying to keep my hips relaxed and in sync with his movement, I began steering him around the pasture. This alone was a huge thrill. It was only then that my obsession began to make sense as I experienced the exhilaration of riding.
He responded to every cue instantly, and seemed perfectly content doing so. Even more thrilling was the moment, about 20 minutes later, when I squeezed a bit harder, and made another click sound, and Apollo started to move faster. Being naturally glossy and recently shampooed, his back was slick, and balancing was a real trick, especially as he began trotting. I fell off a few times; but those moments of being in sync with him as he moved faster and faster made all the bumps and bruises worthwhile. With each tumble I couldn't wait to get back on.
Thus began a daily ritual: each day after recording in my studio, I would spend a couple of hours riding Apollo, improving my balance, increasing my speed, grooming and feeding or even riding him with my kids, and sometimes, spending time with him in the company of my wife (who wound up choosing her own horse, a half-Arabian that I believe she rode exactly once). The more I rode, and the more time my family and I spent around Apollo, the less insane and hopeless the rest of our imploding world seemed. It was like a kind of magic. One day, I even tried an old cowboy trick I'd heard of, and began to try to telepathically send signals to him. Holding myself perfectly still so as not to cue him unconsciously with weight-shifting, I was totally shocked when Apollo responded to every command I issued in my head
Each day brought new successes, deeper connection, more adventures and greater speeds. I began riding him down country roads, over to friends' houses or my dad and stepmother's house, and it wasn't long before I began hearing second- and third-hand inquiries about some guy in shorts who was riding around the island bareback on a stunning black horse!
Throughout my life as a believer, I had always found meaning and purpose in the words of religious leaders or scriptures. Now a new belief system began rattling around in my head as Apollo and I dashed up ridges and galloped through the fields, no saddle separating us, feeling his power and movement, skin on skin. Maybe, just maybe, the true purpose of life is to throw on a T-shirt and shorts, jump on to the back of your "soul horse," and gallop bareback over hill and dale, forever.
Sadly, I had to say goodbye to Apollo when, because of family circumstances, we moved to a new city, and the equestrian interlude did not prevent me and my wife from heading to divorce court.  But my year-long adventure with Apollo forever changed my life, giving me and my children memories we will always cherish. And now that I have new place of my own, on a couple of acres, I'm about to begin my search to find him again.
Talmage Bachman has released two albums, the self-titled Tal Bachman (1999) and Staring Down the Sun (2004). Visit his blog, Tal Bachman in a World Gone Mad, at http://tbachman.blogspot.com, and listen to his music at www.facebook.com/TalBachman.
Short URL: http://theequestriannews.com/?p=328