Dogs Attack Horse at Hansen Dam
By
Paula Parisi
May 31, 2011
On May 20 a horse and rider were attacked by three canines on the trail in the Hansen Dam Recreational Area in the Lakeview Terrace section of Los Angeles. The dogs were identified as pit bulls by Jodi Pavlovich, who is, ironically, a dog trainer. The dogs were being walked off-leash by owners who were on the scene, but unable to control the animals.
"I had seen them earlier and they were on leash, and they were straining on the leash to get after another horse," said Pavlovich, who was riding her BLM Mustang, Atticus, with a friend from whom she'd split for the ride home at the time of the attack, which was around 4:30 p.m. "When I saw them later, I could not believe they were off-leash. I saw the dogs and the dogs saw me before the two guys walking them saw me."  Initially, Pavlovich said she tried letting her horse fight them off. "He was striking, and I got really tall in the saddle and really loud."
That was enough to cause the two smaller dogs to retreat, but did not deter the one attacker Pavlovich described as "the largest pit bull I've ever seen. He was the size of a Bull Mastiff." His aggression spurred the other two back on. "They were trying to get my horse's belly, but they couldn't get a grip, because it was tight." Ultimately, Pavlovich decided to run, and got Atticus into a full-speed gallop. The large dog, who was yellow, and called Huero (white boy) by his owners, gave chase. "He stayed with us for quite a while."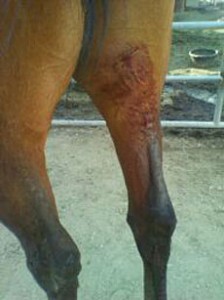 Pavlovich said she thinks pepper spray would have been more effective in thwarting the attackers that even the physical punishments of the horse, or what a whip might have provided. "In that type of situation, anything that causes pain is only going to make them more determined," she said, citing the incapacitating effect of the pepper spray. Atticus suffered numerous tears and scratches, but was reported to be healing nicely.
Amazingly, Atticus seems to have suffered no ill behavioral after-effects from the attack. He still socializes amiably with Pavlovich's own dogs, and shows no signs of distress at the trailhead where the incident occurred. "Mentally, he is a very sound horse, and physically strong. I can't say enough good things about these BLM Mustangs," she added.
Though the Foothill Trails District Neighborhood Council  (FTDNC) is very interested in getting to the bottom of exactly what happened, the rider has not followed up on the incident, she later learned that police were called to the scene within minutes
and were seeking to interview witnesses. "It's kind of a shame, because I know many people who take their dogs off-leash on the trail when they ride, and the dogs are very well-behaved. Now the police are going to crack down and it's going to ruin it for everyone. The problem is with the people, not with the dogs," Pavlovich said.
FTDNC equestrian committee chair Vikki Brink said she is working with local law enforcement to help deal with what has become a trails issue. "It's time we take back our own safety and help the LAPD and Animal Services do their job," Brink said.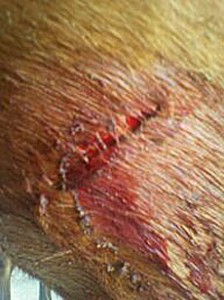 "They need help in reporting and following up on these types of problems."
Brink said enforcement officials have told her that "a picture is worth a thousand words" when it comes identifying and catching perpetrators. "They did tell me that they can use our pictures showing the breaking of the law to enforce fines. When we witness (a potentially criminal) event, we need to train ourselves to take pictures of the act."
The Foothill Trails committee will be meeting with the Foothill Mounted Patrol to come up with training and processes to deal with dog attacks. Brink urges riders to check the website www.ftdnc.org for further details, and to email her at summerhawkranch@hotmail.com with comments or questions about dealing with safety hazards on the trail.
Short URL: http://theequestriannews.com/?p=1612